2022 DETROIT SUPERCROSS PRE-RACE REPORT // PAST THE HALFWAY POINT

2022 DETROIT SUPERCROSS PRE-RACE REPORT // PAST THE HALFWAY POINT
We're back in the Home of the Detroit Lions for the tenth round of the 2022 Monster Energy Supercross season. In the 450 point standings, Eli Tomac continues his reign of supremacy as he became the Daytona champ, winning Daytona for the sixth time. After his win, Eli now sits 17 points ahead of Jason Anderson who holds down the second place position and 33 points ahead of Cooper Webb in 3rd. In the 250 class, Jett Lawrence continues to prove that the hype was real as he leads with the red plate, and opponent Cameron McAdoo tests Jett's skills in second place. While we get ready for the tenth round of the season, scroll down below to find out everything you need to know heading into Detroit.
---
2022 DETROIT TRACK MAP // WOOHOO! 12 WHOOPS!
The optional jump lines make an interesting feature for the track that is split in half with its start straight.
---
2022 DAYTONA SUPERCROSS TV & STREAMING SCHEDULE:
With NBC Sports going away for 2022, American Supercross fans will need to juggle between three channels to watch Supercross—CNBC channel, NBC channel and the USA Network. These channels will host 16 out of 17 races on LIVE TV. This weekend's race will be aired on both Peacock and CNBC.
The Peacock premium streaming service costs $4.99 per month and it provides LIVE coverage of the daytime qualifying sessions at each Round and LIVE coverage of each Supercross race. International Supercross fans can watch using the Supercross Video Pass streaming service which costs $129.95 for a one-year subscription.
Daytona: Qualifying show – 10:00 AM (pacific) – Peacock Premium
Daytona: Night show – 4:00 PM (pacific) –  Peacock Premium & CNBC Channel
---
TAKE AN ANIMATED LAP OF SATURDAY'S DETROIT SUPERCROSS TRACK
---
INJURED LIST:
KEN ROCZEN | EPSTEIN-BARR
Ken Roczen is taking a break from the 2022 Supercross until further recovery from an ongoing illness. To read more up on the situation, CLICK HERE.
JEREMY MARTIN | INJURED SHOULDER


Jeremy Martin had a practice crash on Wednesday and injured his shoulder and will not be racing at Daytona. With both Martin and Kitchen injured, Star Racing Yamaha will not field a 250 team at the Daytona Supercross.
LEVI KITCHEN | BROKEN TIBIA & KNEE CAP

Levi Kitchen, was injured at Round 2 in Texas and he is healing from a fracture in his tibia and a broken knee cap. Levi Kitchen posted: "Just want to give y'all an update. I'm not going to make the races this weekend. Small fracture on the top of my tibia and a broken knee cap. Not sure when I'll be back but I'm going to do everything I can to be racing again soon. Pretty bummed considering I feel I didn't get to show what I was truly capable of but there's always more racing to look forward to. Thanks everyone for the support."
AARON PLESSINGER | BROKEN ARM
Sadly, Aaron Plessinger's Supercross season has come to a halt after breaking his arm in a practice crash. Read more here.
AUSTIN FORKNER | BROKEN COLLARBONE
What can we say, we're gutted for Austin Forkner. At Arlington Supercross, both Jett and Austin were racing when Jett snagged the tough block up the face of the finish line, resulting in the two colliding mid-air. The two crashed but Jett would be the only one to walk away. Austin sustained a broken collarbone that he already had plates and screws in. Austin said via Instagram: "Well, collarbone is broken. but after watching how hard I hit I'm lucky it wasn't worse. Same one from last year just broke around the plate and through a couple screws. I knew it was broken as soon as I got up. I've just been dreading making the post about it, but I guess here it is. You know, I really was trying to make changes this year to my riding and my mentality to be ok with not being the fastest guy at every race, or settling for a 3rd or a 5th at times so I would be at every race and make it to the end of the season. And if that left me with a championship then great, but if not then so be it. But that's why this sport is so damn tough because sometimes none of that matters and things just happen. Anyways, it is what it is. I do really appreciate all the support from everyone, it means a lot. I'll be back."
JETT REYNOLDS | FRACTURED HAND
Jett Reynolds said via Instagram: "UPDATE from last weekend…. I was stoked to make my Supercross Debut in Minneapolis, with a unfortunate crash on Press day resulted a fractured hand that required surgery, I'm all fixed and recovering well now. Bummed this is the way it started out but what's done is done and we're moving forward not looking back, going to regroup get healed up and bounce back strong"
MAX VOHLAND | COLLARBONE/HEMATOMA

Max Vohland said via instagram: "Apologize for the late update, I wanted to get all information before posting: Good news is nothing broken; MRI shows a massive hematoma to the right shoulder and a couple of small cracks in my clavicle. At therapy working, but looks we will miss this weekend. I will be back racing ASAP."
ADAM CIANCIARULO | KNEE
Adam Cianciarulo was already racing with an injured shoulder and has now dropped out with an injured knee, but he  turned out to be a great on-track announcer for the TV coverage. Click here to read more. 
JOEY SAVATGY | KNEE 
Joey Savatgy tore his ACL in his right knee during practice on Tuesday after Anaheim 1. He raced through the injury at Oakland and finished 11th, but a first turn crash in his Heat race at San Diego ended his night and season early. Joey posted via instagram: "Well. I tried, I love this job so much and sometimes it's cruel. Trying to race and not being near 100% isn't ideal, especially in this class. Yesterday was tough, with a track filled with right handers and some tough whoops the knee gave me all it could. But the crash in the heat was the final straw, so I've decided to get my knee fixed. Anyone who supports team 17 I appreciate you more than you know, sometimes it feels like you keep getting punched in the face but this will pass. I will keep everyone updated as events happen. I will be back"
BENNY BLOSS | ANKLE/COLLARBONE
Benny Bloss switched from MotoConcepts Honda to Team Tedder KTM for 2022, but he was injured before the season. Benny has had surgery on his ankle and collarbone and will return as soon as possible. Josh Hill is currently filling in for Benny. 
JOSH HILL | DISLOCATED HIP/BROKEN PELVIS
Josh Hill posted via instagram: "Yesterday (Anaheim 3) was one of those days. Ended up with a dislocated hip and a fractured pelvis, but knowing I'm going to miss some races is what hurts most. I have been having so much fun being back racing and working with every from Team Tedder, and I felt like I was improving every time I touched the bike."
JUSTIN HILL | SHOULDER
We don't know when Justin Hill will be back at the races, hopefully sooner than later. 
---
450 POINT STANDINGS (AFTER ROUND 9 OF 17)
| | | | |
| --- | --- | --- | --- |
| POS. | # | NAME | Total Points |
| 1 | 3 | Eli Tomac | 203 |
| 2 | 21 | Jason Anderson | 186 |
| 3 | 1 | Cooper Webb | 170 |
| 4 | 27 | Malcolm Stewart | 165 |
| 5 | 23 | Chase Sexton | 163 |
| 6 | 51 | Justin Barcia | 163 |
| 7 | 25 | Marvin Musquin | 145 |
| 8 | 14 | Dylan Ferrandis | 137 |
| 9 | 94 | Ken Roczen | 131 |
| 10 | 15 | Dean Wilson | 110 |
---
250 POINT STANDINGS (AFTER ROUND 3 OF 9)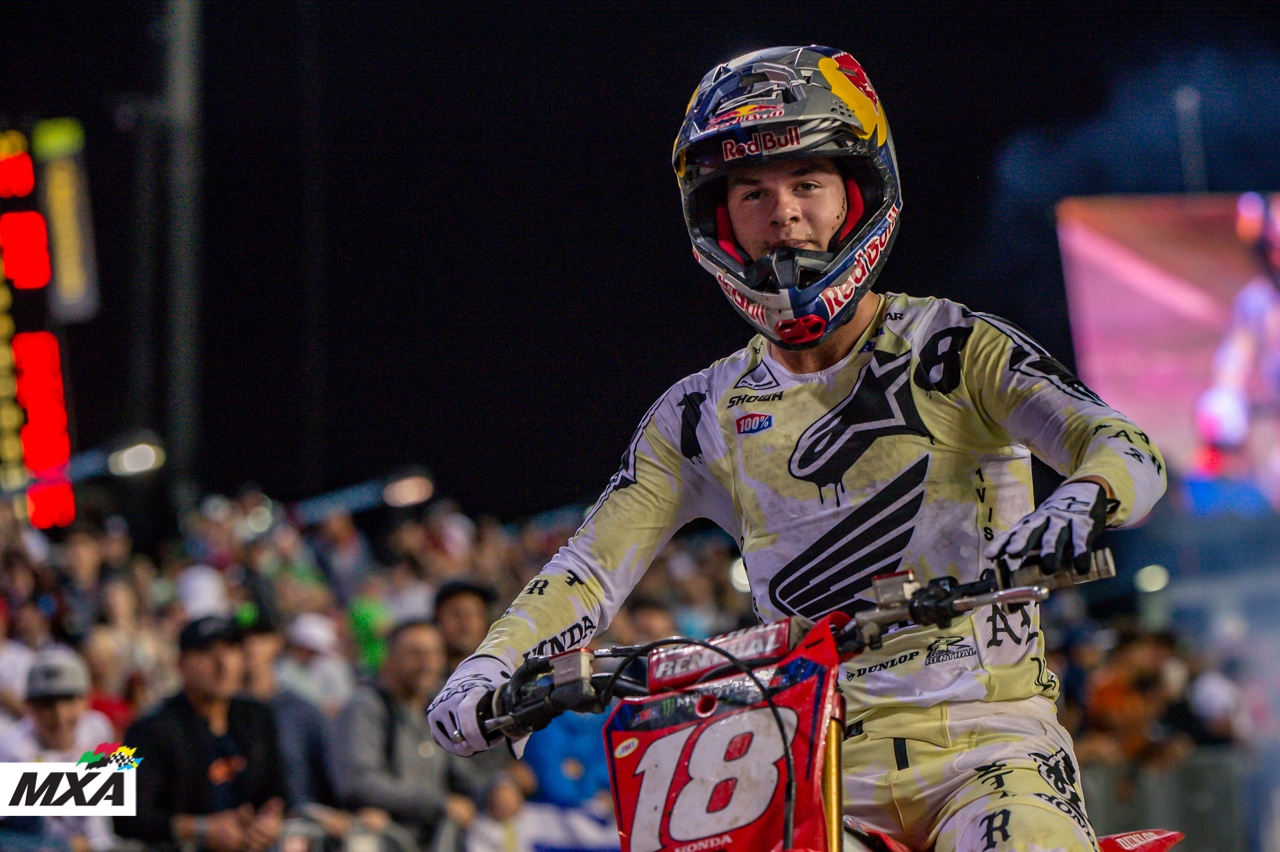 | | | | |
| --- | --- | --- | --- |
| POS. | # | NAME | Total Points |
| 1 | 18 | Jett Lawrence | 73 |
| 2 | 48 | Cameron McAdoo | 68 |
| 3 | 50 | Stilez Robertson | 52 |
| 4 | 80 | Enzo Lopes | 50 |
| 5 | 44 | Pierce Brown | 47 |
| 6 | 90 | Jordon Smith | 45 |
| 7 | 6 | Jeremy Martin | 42 |
| 8 | 715 | Phillip Nicoletti | 42 |
| 9 | 24 | Rj Hampshire | 41 |
| 10 | 33 | Austin Forkner | 39 |