FACTORY BIKES UP CLOSE // 2023 HOUSTON SUPERCROSS

FACTORY BIKES UP CLOSE // 2023 HOUSTON SUPERCROSS
Houston Supercross is finally upon us! The 2023 Monster Energy Supercross series has made it's way to NRG Stadium located in Houston for the fifth round of the championship. And yep, it's still the fifth round even though Oakland Supercross will come back in a couple of weeks. So far, we're eager to see all the new faces hit the track but first we have to take a stroll through the pits. Houston also marks the start of the East 250 championship so there'll be plenty of new bikes to see at the factory rigs. Our photographer Brian Converse made his way through the pits so be sure to check out the photos down below.
Motocross Action's Best in the Pits photo gallery is brought to you by Helix Racing Products.
---
Photos by Brian Converse
Hate them or love them, you can't deny how good these Suzukis look.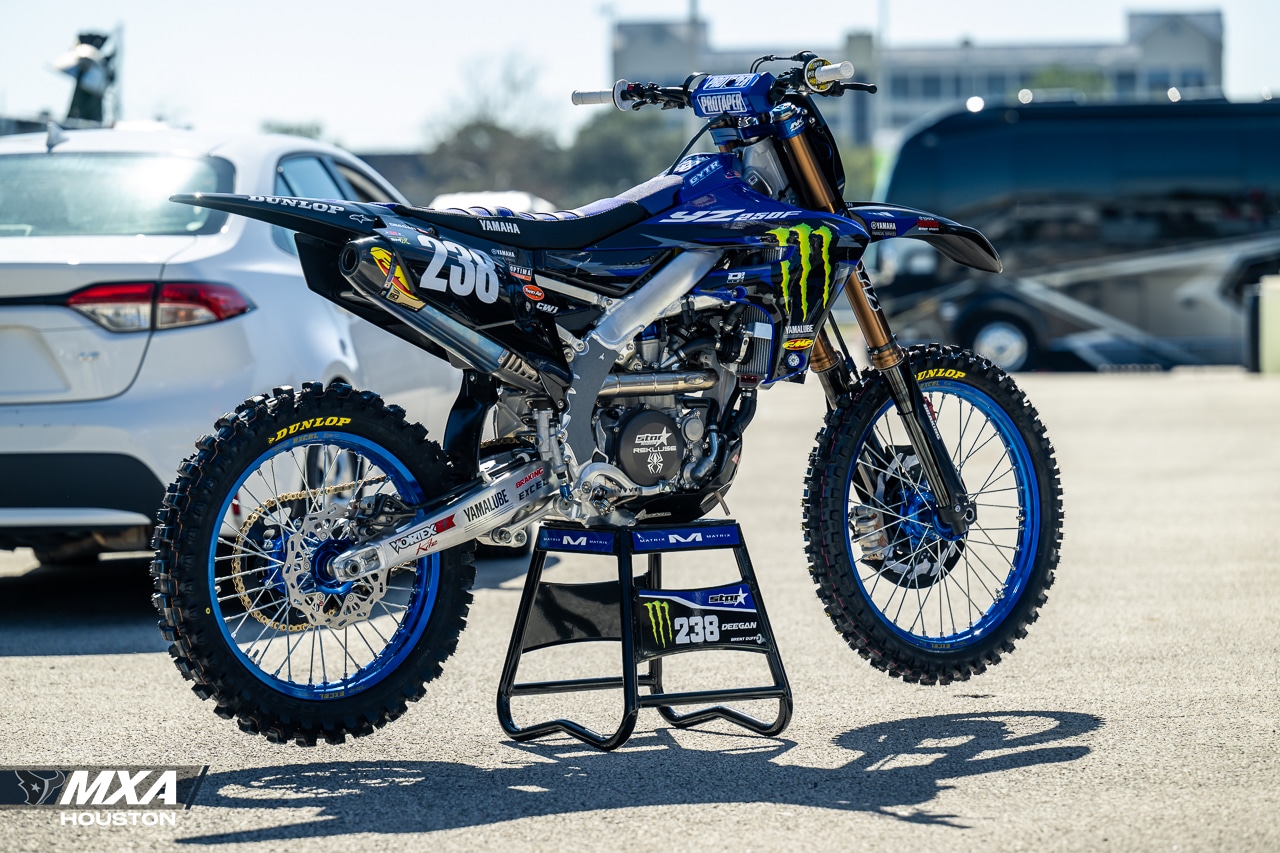 Oh what's that? Yes, Haiden will be joining the big leagues this weekend with his bike sporting a new look compared to his amateur bike.
One rider we're looking forward to watching would be Jordon Smith. Jordon has unfortunately had a string of bad luck with injuries but after spending almost an entire off season focusing on his Star Yamaha, we anticipate he'll sneak up on a lot of people's radar.
The gloss look is bit of a change up compared to the matte finish. We like it, what do you think?
The Star rig is going to be packed this weekend. Dylan Ferrandis, Eli Tomac, Justin Cooper, Nate Thrasher, Jordon Smith, and Haiden Deegan are going to be filling the field with Yamahas.
Oh my goodness that header.
Chris Blose is back, and as of right now, the only rider under the Pro Circuit umbrella. It has been extremely unfortunate the string of injuries that have sidelined both Jo Shimoda and Seth Hammaker.
Jason's bike in the foreground and if you look closely, that might be him in the background too.
We're thankful to see Adam Cianciarulo back at the races and he's been slowly and steadily improving his results.
The Honda bikes surrounded by Honda guys.
The secret is that they're just changing Jett's numbers to Hunter's. [(We're kidding)or are we?]
Even the small things like a carbon guard is pretty cool. 
Yep, that looks like a good place to put my jacket.
Just two guys are going to be under the GasGas awning this weekend. Justin Barcia…
and Michael Mosiman.
This will be Tom Vialle's first-ever Supercross race. Will he live up to fan expectations or should we temper them knowing that yes, this is first-ever Supercross race?
Aaron Plessinger's steed. 
Christian Craig has had a couple of challenging rounds so far this season. Will Houston be the round Christian turns things around?
With Jalek Swoll out, Husqvarna was in the same position as Pro Circuit except Husqvarna has a couple of riders in the amateur ranks that can pull from, one of them being Talon Hawkins. Talon will also be making his pro debut this weekend.
Malcolm Stewart will not be joining his teammate Christian this weekend as the 27 had to undergo surgery. As of right now we are unsure when Malcolm will be rejoining the season.
Coty Schock's bike looking real good before the weekend.
Benny Bloss and his Yamaha. We're curious what bar bend he runs due to his impressive height.
Justin Hill's bike getting some maintenance.
The Partzilla bikes just chilling.